OUTLOOK | May 17, 2022
Authored by RSM US LLP
Architecture firms, engineering firms and construction firms (AEC) are becoming more optimistic about their overall growth and performance through the next 18 months despite persistent challenges involving materials and labor. With no relief in sight, and with the Russia-Ukraine war adding to economic uncertainty, AEC firms are coping with rising costs and extended project timelines by looking to digital solutions. Technology not only is helping firms capitalize on mounting demand, it also is expanding horizons using interactive design visualization and the world of extended reality.
Seeing the bright side
AEC executives emerged from the first quarter of 2022 relatively optimistic about where the market is headed. The Engineering News-Record's (ENR) Construction Industry Confidence Index, which measures AEC executive sentiment about the market outlook for the next three to 18 months, held steady in the first quarter after rising slightly from the fourth quarter of 2021. That modest uptick reversed the index's decline in the middle two quarters of 2021. Although it may seem like only a small win, it's a vast shift in optimism levels compared to the same time last year.
Another measure of executive sentiment in the sector, the Construction Financial Management Association's Confindex, increased 2% last quarter and is up more than 19% over the past year.
The Infrastructure Investment and Jobs Act has boosted this optimism with its commitment to investments in a broad range of infrastructure. Another positive force is the glut of backlogged projects that were pushed forward from last year until now. In the CFMA's first-quarter Confindex survey, 64% of respondent firms acknowledged a greater backlog of revenue relative to a year ago.
Total construction starts—another sign of optimism—were 9% higher in the first three months of 2022 than in the same period last year, according to the Dodge Construction Network. Nonresidential starts were up 26% and residential gained 3%. Although total construction starts fell 12% in March, variability in month-over-month data is expected, as large starts will skew the data. Overall, there is a strong underlying trend toward steady growth as postponed projects reach their rescheduled date and activity related to the infrastructure package encourages clients to move forward. 
In the uncertain economic climate of 2021, many clients of AEC firms were hesitant to proceed with projects. According to the Associated General Contractors of America's national survey for its 2022 construction outlook, 46% of respondents had projects postponed in 2021 and have rescheduled them, while another 32% had projects postponed without rescheduling. The top reason for postponements and cancellations? Rising costs, according to 48% of AGC survey respondents.
However, not all disruptions were driven by cost constraints. AGC also reported that 75% of firms experienced project delays due to longer lead times or shortage of materials. Richard Branch, chief economist at Dodge Construction Network, told ENR that nonresidential building projects are taking roughly six months longer to begin construction than they were in 2019. Delays are not seen only at the front end of projects; 72% of AGC's national survey respondents blamed pandemic-related factors for causing projects to take longer than anticipated in general.
9%
Year-over-year growth in total construction starts during the first three months of 2022, per the Dodge Construction Network
23%
Respondents to the Associated General Contractors of America national survey that say they are stockpiling materials before winning contracts
73%
AGC survey respondents that list worker shortages as a top concern
Labor challenges
A critical factor in project delays has been the notable labor shortage. In the CFMA's Confindex survey, 74% of respondents said they were highly or very concerned about labor shortages, with no immediate apparent solutions. This is aligned with the overall shortage in the entire professional services industry in the United States, in which job vacancies far outnumber offers. 
Amid this labor shortage, firms have started to offer compensation increases that exceed recent industry standards. At the executive level, base salaries increased 4.3% on average from 2020 to 2021, according to PAS, a firm that tracks compensation in the construction sector. As PAS President Jeff Robinson told ENR, the PAS 2022 Executive Compensation Survey for Contractors estimates 2022 salary increases could very well reach 5% for the first time in 15 years.
Expensive materials
Over the past two years, the AEC sector has experienced wide fluctuations in the prices of critical materials, driven by supply-and-demand imbalances caused by pandemic disruptions. As a result, firms have changed the way they plan their projects: 67% of respondents to AGC's national survey stated they have accelerated purchases after winning contracts, and 23% are stockpiling materials before winning contracts.
Ironically, the attempt to mitigate material price fluctuations and avoid supply chain risks by adopting early purchasing will prolong the issue and keep prices higher by elevating demand in the short term.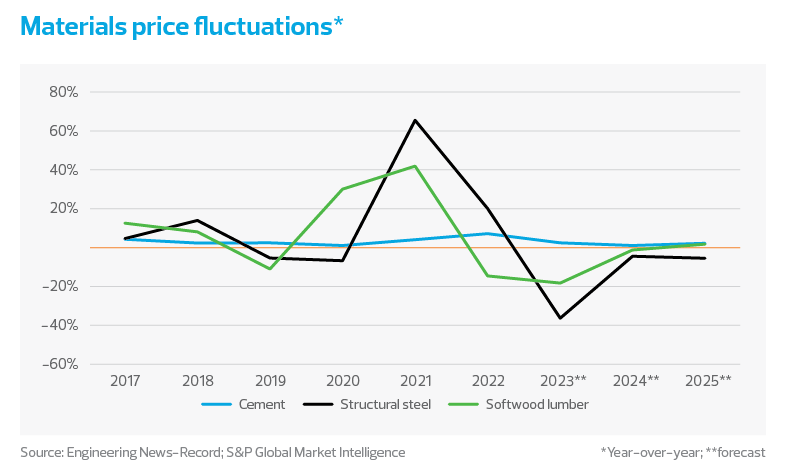 S&P Global Intelligence initially forecast sharper declines in materials prices in 2022 as supply-side constraints return to normal. But uncertainty due to the Russia-Ukraine war has reversed the forecasts, according to John Anton, the company's expert on steel pricing and purchasing. Materials prices in 2022 now are expected to challenge the peak prices of 2021, Anton told ENR.
Turning to technology
To address obstacles, many firms are planning to implement new technologies, as reflected by the 74% of AGC survey respondents who indicated as much. AGC asked how firms' investments in 15 types of technologies in 2022 would compare to 2021. The top five technologies in which firms plan to increase investment share a common purpose: using automation to achieve operational efficiencies.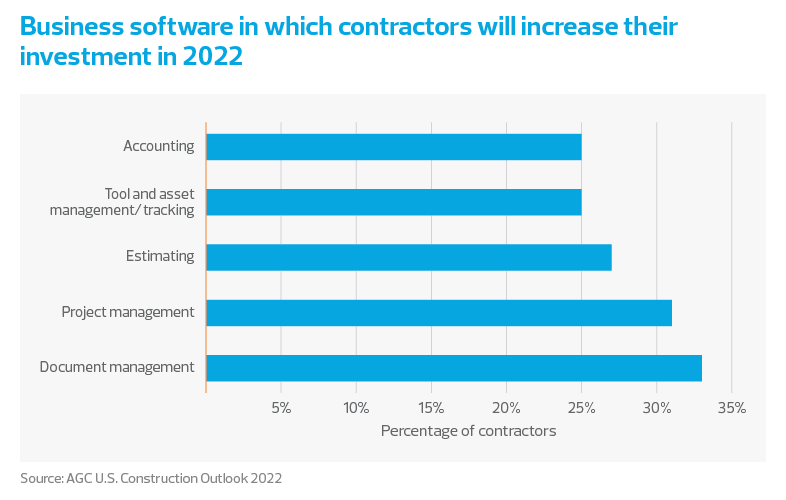 Each one has the potential to automate routine, repetitive or administrative tasks that use precious hours in the day. By automating these tasks, AEC firms can free their professionals to work on higher-value activities, providing some reprieve from current labor challenges.
However, investing in technology does not automatically result in immediate efficiencies. When AGC surveyed firms about their biggest IT challenges, the most common response (41%) was the time needed to implement and train on new technology. The third-most-common (37%) was employee resistance to technology. Some firms are so desperate for resources that the short-term pain of technology implementation or training is simply too much to undertake, even with the promise of operational efficiencies in the long term.
New ways to experience projects
On the more innovative side of technology, interactive design visualization and extended reality (XR) continue to change the way architects and engineers approach new opportunities.
Interactive design visualization technology—including virtual reality and augmented reality—allows firms to provide their clients with an immersive experience. Used as a communication and collaboration tool during design, clients can experience what it feels like to be in a proposed building design, limiting the need for interpretation of abstract concepts.
The American Council of Engineering Companies surveyed member firms in August 2021 about the benefits of three classifications of technology, one of which was 3D modeling and building information modeling (BIM) automation tools, which include VR. The other two groups were engineering collaboration tools and insights tools. 3D and BIM tools were the most commonly chosen type for delivering higher-quality design or construction and higher client-partner satisfaction, and for enabling the respondent firm to remain competitive.
Those sentiments continue to materialize in high-profile examples of buy-in to this type of technology.  The American Society of Civil Engineers has partnered with Experimental, a firm that specializes in immersive design and mixed reality, to build out an XR environment as part of a project called Future World Vision. The environment, called Mega City 2070, resulted from extensive scenario planning and research about infrastructure trends civil engineers must continue to contend with, including climate change, alternative energy, autonomous vehicles and high-tech construction. ASCE launched its Future World Vision desktop app Feb. 22.
Another example is Autodesk's agreement in late March to acquire The Wild, a cloud-connected XR platform that enables AEC professionals to present, collaborate and review projects together in immersive and interactive experiences.
Adoption of these technologies will accelerate and surpass the efficiencies achieved with more traditional software, such as the types in which AGC survey respondents said they're increasing investment. They will become a powerful differentiating factor and competitive advantage.
The takeaway
Although the investment and effort to implement and adopt technology is significant in the short term, labor challenges in this space will continue to affect firms in the long term. Firms that can transform themselves to be able to grow and scale with less dependence on labor will reap the benefits for years to come.
---
This article was written by Sonya King and originally appeared on May 17, 2022.
2022 RSM US LLP. All rights reserved.
https://rsmus.com/insights/industries/professional-services/architecture-engineering-trends.html
RSM US Alliance provides its members with access to resources of RSM US LLP. RSM US Alliance member firms are separate and independent businesses and legal entities that are responsible for their own acts and omissions, and each are separate and independent from RSM US LLP. RSM US LLP is the U.S. member firm of RSM International, a global network of independent audit, tax, and consulting firms. Members of RSM US Alliance have access to RSM International resources through RSM US LLP but are not member firms of RSM International. Visit rsmus.com/aboutus for more information regarding RSM US LLP and RSM International. The RSM(tm) brandmark is used under license by RSM US LLP. RSM US Alliance products and services are proprietary to RSM US LLP.
Thomas Howell Ferguson P.A. CPAs is a proud member of RSM US Alliance, a premier affiliation of independent accounting and consulting firms in the United States. RSM US Alliance provides our firm with access to resources of RSM US LLP, the leading provider of audit, tax and consulting services focused on the middle market. RSM US LLP is a licensed CPA firm and the U.S. member of RSM International, a global network of independent audit, tax and consulting firms with more than 43,000 people in over 120 countries.

Our membership in RSM US Alliance has elevated our capabilities in the marketplace, helping to differentiate our firm from the competition while allowing us to maintain our independence and entrepreneurial culture. We have access to a valuable peer network of like-sized firms as well as a broad range of tools, expertise, and technical resources.

For more information on how the Thomas Howell Ferguson P.A. CPAs can assist you, please contact us.